"Forgetting Dad" is in English and is available in 84-minute and 59-minute versions.
The film is unrated.
INSTITUTIONAL USE
"Forgetting Dad" is in English and is available in the full 84-minute version as a DVD with a public performance license or as a digital stream for universities, colleges, nonprofit groups and libraries in the USA and Canada through our educational distributor
DARK HOLLOW FILMS
.
A 59-minute version is also available upon request.
Please contact us at
info@rickfilms.de
.
PERSONAL USE
"Forgetting Dad" is currently available on DVD and as a stream or download outside the USA and Canada only (they will be added at a later date) through our filmmaker-friendly partners:
Onlinefilm.org
DocAlliance Films
Distrify
WORLD SALES
Television licensing, theatrical distribution, festival enquiries:
Films Transit International, Inc.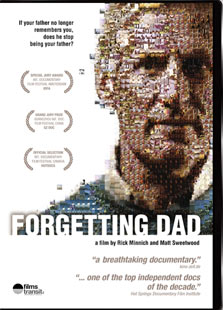 For other screenings, speaking engagements, interviews and other matters please contact us at info@rickfilms.de and join our Facebook page.
You can also follow Rick on Twitter(@rickminnich).